Oy. The world's longest horse show is done. The place is lovely - although it will take a few more years before the footing is stable. The grass didn't have deep enough roots to hold up to the pounding.
Pip was a good boy - ran on to the trailer as per usual. He likes to go for rides. Morgan has learned just to get out of his way. He did the same thing on Sunday when we went to load to come home. Trotted down the aisle of the portables and jumped on.
He was a very good boy. It was really hot the two days he showed. It takes him until the third trip to get organized, he jumps the snot out of the jumps and then needs to get organized in the lines. He is getting there. He pinned in one over fences class, was 8th and won the hack. There were 18 in the Baby Greens. Most of them also showed in the 4&5 Year old hunters as well, Pip just did the low class and his division.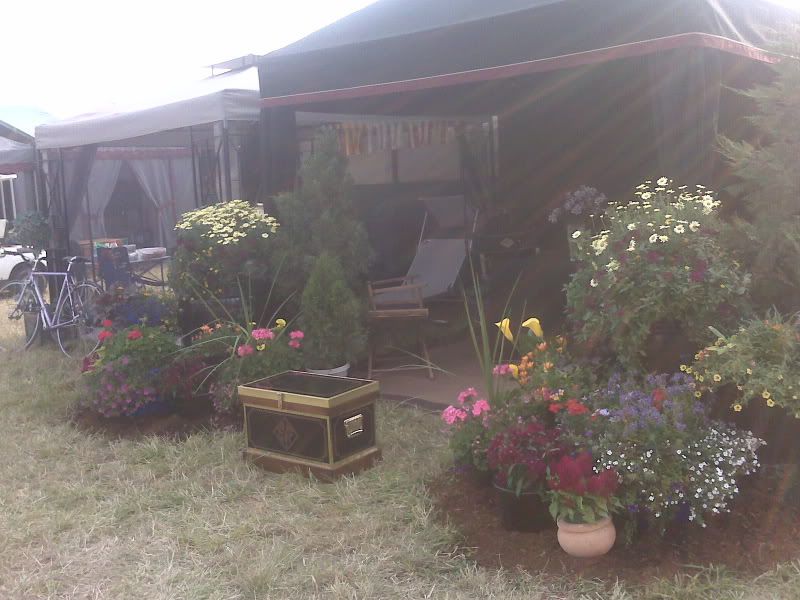 We decorated for the tack room contest although I don't think we got judged. Here is our set up.
I took these pictures with my Blackberry so they aren't great.
It looked very nice, Paul and Lori provided the urns, pots and plants, I did the Waterford crystal vase and had an Hermes scarf picked out to get framed and hang in the back of the "casita" but couldn't get it done, because the show was so slow and unpredictable I was still waiting for Pip to go when I was going to run out and get the stuff to frame it.
Pip got to go for ice cream with Lucas. Usually he goes with him to the Taqueria. I don't know if he got to go stand in line with him at this show.
I got to see Mark Tompkins as he was judging. Chatted with him a few times as I was wandering around and visiting with people I hadn't seen in a long time. I saw Mark last year when he was judging at a show in Monroe. Sounds as though he is doing well.
Pip's next outing is Summer Festival in Langley BC at Thunderbird Showpark. I'm going to go up on Monday to take the golf cart and then go back up on Sunday to bring it home. I can't stay because I won't be able to take the old lady dog with me. It's just as well, hotel rooms are expensive.